David Skokan is the last prospect one would expect to see as the offensive star of the week but guess what an 8 game scoring streak says otherwise. Our latest winner of the Prospect Park Star of the Week picked the perfect time to get hot.
David who is featured in our current issue was 1-3-4 in the last week returning from a groin injury. In fact in the game Skokan returned was also his best of the month as he netted 3 assists to help his Rimouski Oceanic to a 7-1 win.
Skokan has pushed his numbers to a respectable 7-14-21 as his Rimouski Oceanic try to turn things around. The Oceanic have been struggling but thanks to Skokan's efforts are on a 3 game winning streak.
The second leading scorer on the Oceanic this season, Skokan is also at a 49.9 % win rate on his faceoffs, has a -7 but also has 36 "good" hits.
We have this feeling that as Skokan plays better so will his Oceanic.
CHL Weekly Poll
Ryan Hillier's Halifax Mooseheads actually dropped one from 2nd to 3rd in the latest CHL Mosak Mastercard CHL Top 10. They are the only team with Ranger prospects ranked but as the season goes on we think that might change.
In any case we are happy for the "Herd" as they have an impressive 20-4-0-4 record best in the QMJHL
USA Hockey Unveils Plans For First-Ever
"Hockey Weekend Across America"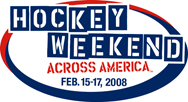 And now we turn Prospect Park over to Dave Fischer of USA Hockey who sent us this email about Hockey Weekend Across America on Feb 15-17 2008:


COLORADO SPRINGS, Colo. – The first-ever Hockey Weekend Across America, a three-day nationwide celebration of the sport of hockey, will take place Feb. 15-17, 2008. The announcement came today from USA Hockey, the national governing body for the sport of ice hockey in the United States.
Each of the three days associated with
Hockey Weekend Across America
has a theme, including Friday's Wear Your Jersey to School Day, Saturday's Bring A Friend to the Rink Day and Sunday's Celebrate Local Hockey Heroes Day.
"We're extremely pleased to be leading this effort," said Dave Ogrean, executive director of USA Hockey. "While we've set up the structure, the success of Hockey Weekend Across America will be driven by those involved in the game across the country activating programs in conjunction with the celebration."
A special website – HockeyWeekendAcrossAmerica.com – has been established to act as the information hub for the event. It features material for download, including the event logo and poster. Additional information will continue to be added, including highlights of activities planned in conjunction with Hockey Weekend Across America from around the country.
"Our sport has a lot to celebrate at all levels and we're looking forward to being a part of Hockey Weekend Across America," said Gary Bettman, commissioner of the National Hockey League.
"We need to do whatever we can to gain visibility for our sport," said Tom Anastos, commissioner of the Central Collegiate Hockey Association and president of the Hockey Commissioner's Association. "All of us involved need to participate in Hockey Weekend Across America in some fashion to both celebrate and help grow the game."
USA Hockey is conducting a contest for best Hockey Weekend Across America programming with the grand-prize winner receiving 25 sets of OneGoal starter equipment ($4,000 value). Additionally, five runner-up prizes of $1,000 cash will be awarded. The entry form can be obtained at HockeyWeekendAcrossAmerica.com.
Details on Hockey Weekend Across America's Great Prize Giveaway will be unveiled in December.
Prospect Park supports the efforts of USA Hockey to help grow hockey in America and we hope to have someone from USA Hockey here to talk about this program next month to help promote it.